The "Practice of Mindfulness"  has grown on popularity over the last 20 years and established the passionate community of dedicated authors and readers, teachers and students, people thriving to learn more about this quite new topic of mindfulness practice. Although mindfulness roots are considered to originate from far east Asia, similar concepts have been found on every continent of planet Earth.
Until almost recently, Mindfulness has been sort of a forgotten lost practice that our ancestors all around the world used to live healthily and happily in balance with themselves and mother nature, in alignment with the entire Universe. It's the coping mechanism for life when you feel down and low, it's the self-healing and self-preserving method to keep your own sanity, physical and mental health, and at the same time feeling happy and fulfilled in every moment of life.
It is just as amazing how the regular 30 minutes a day practice can heal or fix whatever wrong is going on. There is a known fact that when you heal your emotional body you simultaneously heal the physical body too. This has been widely researched and proved in the western world by people like Jon Kabat-Zinn and many other "western pioneers of mindfulness practice", and introducing it into the everyday life of people to significantly reduce stress levels of employees at workplaces or traumatized individuals with anxiety attacks and depressions, or just simply improve the overall life.
Thanks to such a wide interest in learning and knowing more about mindfulness practices, plenty of books been written by some of the greatest authors on the topic.
So with all of that being said, here are the 11 best books about mindfulness that everyone who is looking for a happier and healthier life should read.
1. The Power of Now by Eckhart Tolle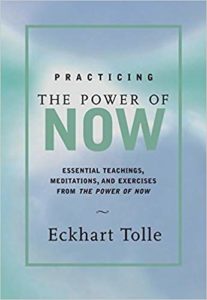 This book that has been written nearly 2 decades ago is still one of the most insightful teachings of the western world population on how to be more present in the moment of NOW! Since the presence of now is one of the main fundamental principles of mindfulness practice, Eckhart's book "The Power of Now" can truly get you very close and familiar with what the "mindfulness" being in the present moment actually is.
The book teaches how we can Free ourselves from the enslaving thoughts and emotions of our mind, which is most often the root cause of all the mental or health-related problems in life. Eckhart Tolle shows you the way how to practice the quieting of your mind from all the unnecessary thoughts and mental noise blocking the good vibrancy frequencies to come forth, and once again feel the ease and lightness spiced with unconditional happiness of being alive.
Eckhart Tolle's life story is an amazing example of how one's life can be completely turned around.
2. Wherever You Go, There You Are by Jon Kabat-Zinn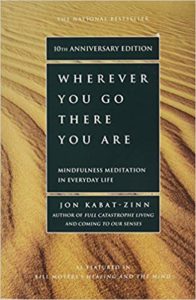 Jon Kabat-Zinn is probably the most frequently mentioned author and is considered as a western early pioneer of introducing mindfulness as the Real Fact topic into psychology. It's him who is responsible for the big wave of buzz and more serious researches been conducted by other like-minded individuals, universities, and research facilities. Thanks to Jon Kabat-Zinn and others supporting his research, the concepts of mindfulness and meditation been widely introduced to global and local communities, small businesses and big corporations are also adopting the mindfulness as a fundamental stress reduction practice.
Based on the years of research and practice, Jon created Mindfulness-Based Stress Reduction programs that are helping groups and individuals to overcome life difficulties and challenges and ultimately feel better, happier, and more fulfilled a day by day.
 3. Untethered Soul: The Journey Beyond Yourself by Michael A. Singer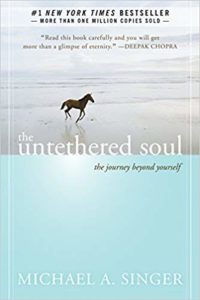 In this amazing book, the New York Times bestselling author and spiritual teacher Michael A. Singer taps into how our inner and global consciousness is affecting our lives, happiness, successes and accomplishments, and how we most of the time hold ourselves back from living the life we want and dream of.
Many times throughout the book Michael is pointing on the importance of just "letting go" in life, that we are not here to control everything around and beyond us with the disrupting thoughts of the brain. And also that by simply dedicating a few minutes a day to calm down, relax, and focus on the present moment drastically helps to clear out the negative emotions that are caught up in the body.
Untethered Soul book will show and unlock the door to living a life full of freedom, happiness, and fulfillment.
4. Meditation is Not What You Think by Jon Kabat-Zinn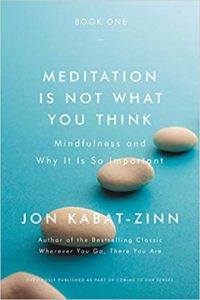 This is another super relevant and highly recommended book to read by Jon Kabat-Zinn. The full title of the book is "Meditation Is Not What You Think: Mindfulness and Why Is It Important", and in this book Jon points and concentrates the focus on mindfulness meditation, and what meditation actually is, and why is it important to us.
In the book, Jon debunks the myths behind meditations and simply shows the health benefits of mindfulness and meditation in the "Real" world, as many would say.
5. Resilience: Powerful Practices for Bouncing Back from Disappointment, Difficulty, and Even Disaster By Linda Graham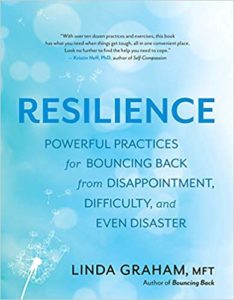 As the title of this book already suggests, the main theme of the book is drawn and focused on how to deal with ever-coming disasters, difficulties, disappointments, obstacles, challenges, etc., no matter how big or small they are.
This is a little bit different from kind of a scientific approach point of view, and it's more focused on what do we do in difficult situations in everyday life, and how to build resilience so we are ready when a huge disaster event comes. Seeing the equal good in bad situations is the key part of building a strong resilience in life.
In Resilience, Linda Graham offers a perfect guiding system to help you develop an emotional, relational, and reflective intelligence — the crucial skills to deal with life's inevitable challenges and crises with confidence and good feeling.
6. The Leader's Guide to Mindfulness: How to Use Soft Skills to Get Hard Results by Audrey Tang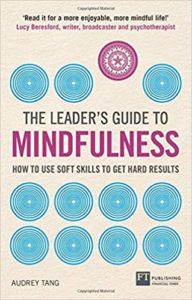 The Leader's Guide To Mindfulness is a quite new book written at the end of 2018 by Dr. Audrey Tang. The book summarizes together the past years and decades of research, studies, training courses, and publications from the world's most renowned figures in the psychology and mindfulness industry.
The Leader's Guide to Mindfulness especially received the big positive feedback on simplicity and ease to understand what mindfulness is and how one can use it to own benefits such as becoming a leader. You will learn about the habits and rituals of some of the most successful entrepreneurs, businessmen, and executives, and how they deal with high-pressure situations in life.
7. Our Senses: An Immersive Experience by Rob DeSalle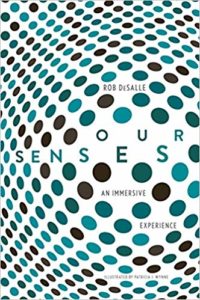 Our Senses: An Immersive Experience is not just another scientific study on how human senses work and evolve, but its renowned author Rob DeSalle has tapped into new research findings on how all of our senses work together and basically create the world around us as we See It..Hear It..and Feel It.
In the book, Rob explains how the perception and consciousness are formed in the brain and He then investigates such varied themes as supersenses and diminished senses, synesthesia and other cross-sensory phenomena, hemispheric specialization, diseases, anomalies induced by brain damages, injuries, and hallucinations. Read this book and learn what is revealed about our human senses through the extraordinary findings. Ro DeSalle provides very unique insights into the wonders of the human brain.
8. New Earth: Awakening to Your Life's Purpose by Eckhart Tolle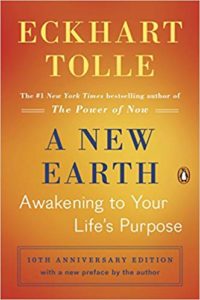 Another absolutely "Must Read" brilliant book is A New Earth: Awakening to Your Life's Purpose. This is perhaps my favorite book from Eckhart Tolle, and once again the main focus of this book is pinpointed on embracing the Present Moment, Now, instead of live the life of constant worry about the future and the past, which from some philosophic points of view actually Do Not Exist.
So if there is only now that is real, why do we spend lifetimes avoiding it and pondering the better futures and unhappy past dreams and memories?
Well, read A New Earth and let Eckhart explain what he thinks is going on on and with this planet that we call The Mother EARTH.
9. The Miracle of Mindfulness: An Introduction to the Practice of Meditation by Thich Nhat Hanh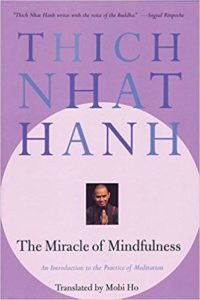 I would highly recommend reading The Miracle of Mindfulness by Thich Nhat Hanh as one of the first books if you want to learn more about mindfulness and meditation through storytelling rather than an analytical view. Thich Nhat Hanh was a Vietnamese Buddhist monk, peace activist, teacher. and author of over 100 books throughout his life.
In the book, he is perfectly describing how to start practicing mindfulness and what it actually does to overall being on both, physical and spiritual level. It's easy to read because of its clear and simple emphasis on basic practice so the reader can begin applying it immediately.
It is important to mention that although the book describes mindfulness as a Buddhist practice, it's not strictly meant just for people interested in Buddhism.
10. The Little Book of Mindfulness: 10 Minutes a Day to Less Stress and More Peace by Patricia Collard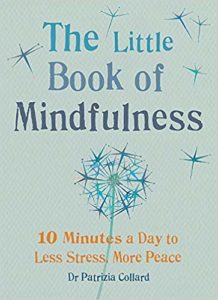 "There is Nothing Good or Bad, But the Thinking Makes It So!" – Hamlet
The lovers of The Little Book of Calm will appreciate this "Little" book.
It's a small book that one carries with every day to practice mindfulness throughout the day, every day. And because of its perfect size, there is literally no excuse to not have it! 🙂
11. The Mindful Way through Depression: Freeing Yourself from Chronic Unhappiness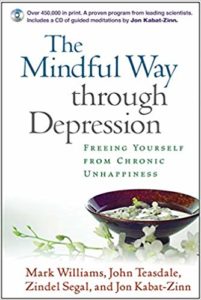 Depression and anxiety are nowadays one of the most common mental illnesses widely spread mainly in highly developed and economically stable countries. Depression is simply the mix of emotions and signals coming primarily from self, more specifically from the unaware self, like feeling disconnected from time.
The Mindful Way Through Depression is a unique book co-authored together by Mark Williams, John Teasdale, Zindel Segal, and of course, Jon Kabat-Zinn.